Guide to Picking the Perfect Tenant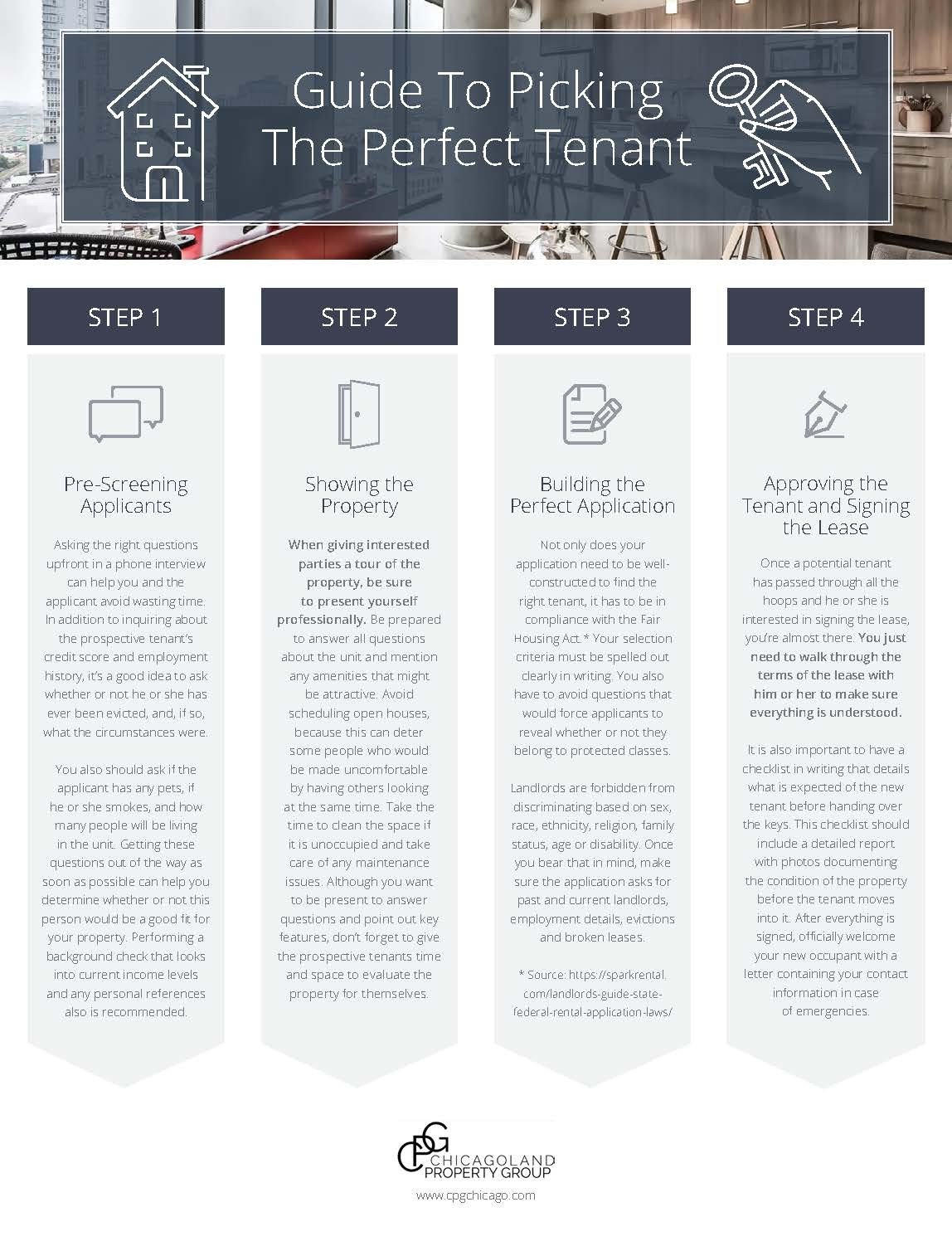 Oct, 14 2019
---
Perhaps no other business owners put as much thought and care into who their customers are as landlords. There's a good reason for that, too. An apartment building or house is a major investment, and it's one that they want to keep profitable for the long term.
That means landlords have to be extremely choosy when it comes to finding tenants. Signing a lease with someone who can't afford the rent, won't respect the property, or otherwise violates the terms of the contract seriously hurts the landlord's ability to earn money. Avoiding all of those potential issues means being sure that the person moving into the unit is the best fit.
There are numerous ways landlords can help ensure their tenants will be as worry-free as possible. For example, a thorough pre-screening process can weed out applicants who don't meet specific requirements. When creating the application, owners must be careful to ask the right questions while avoiding any that could be viewed as discriminatory. It's also important for a landlord to understand the best way to show his or her properties to assure they are an ideal fit for prospective renters.
For more tips about choosing the perfect tenant, see the accompanying guide.
Step 1: Pre-Screening Applicants
Asking the right questions up front in a phone interview can help you and the applicant avoid wasting time. In addition to inquiring about the prospective tenant's credit score and employment history, it's a good idea to ask whether or not he or she has ever been evicted, and, if so, what the circumstances were.
You also should ask if the applicant has any pets, if he or she smokes, and how many people will be living in the unit. Getting these questions out of the way as soon as possible can help you determine whether or not this person would be a good fit for your property. Performing a background check that looks into current income levels and any personal references also is recommended.
Step 2: Showing the Property
When giving interested parties a tour of the property, be sure to present yourself professionally. Be prepared to answer all questions about the unit and mention any amenities that might be attractive. Avoid scheduling open houses, because this can deter some people who would be made uncomfortable by having others looking at the same time. Take the time to clean the space if it is unoccupied and take care of any maintenance issues. Although you want to be present to answer questions and point out key features, don't forget to give the prospective tenants time and space to evaluate the property for themselves.
Step 3: Building the Perfect Application
Not only does your application need to be well-constructed to find the right tenant, it has to be in compliance with the Fair Housing Act.* Your selection criteria must be spelled out clearly in writing. You also have to avoid questions that would force applicants to reveal whether or not they belong to protected classes.
Landlords are forbidden from discriminating based on sex, race, ethnicity, religion, family status, age or disability. Once you bear that in mind, make sure the application asks for past and current landlords, employment details, evictions and broken leases.
Step 4: Approving the Tenant and Signing the Lease
Once a potential tenant has passed through all the hoops and he or she is interested in signing the lease, you're almost there. You just need to walk through the terms of the lease with him or her to make sure everything is understood.
It is also important to have a checklist in writing that details what is expected of the new tenant before handing over the keys. This checklist should include a detailed report with photos documenting the condition of the property before the tenant moves into it. After everything is signed, officially welcome your new occupant with a letter containing your contact information in case of emergencies.